Multifamily build in Loring Heights would include live-work units, per filings
SEPTEMBER 09, 2021, 1:19PM JOSH GREEN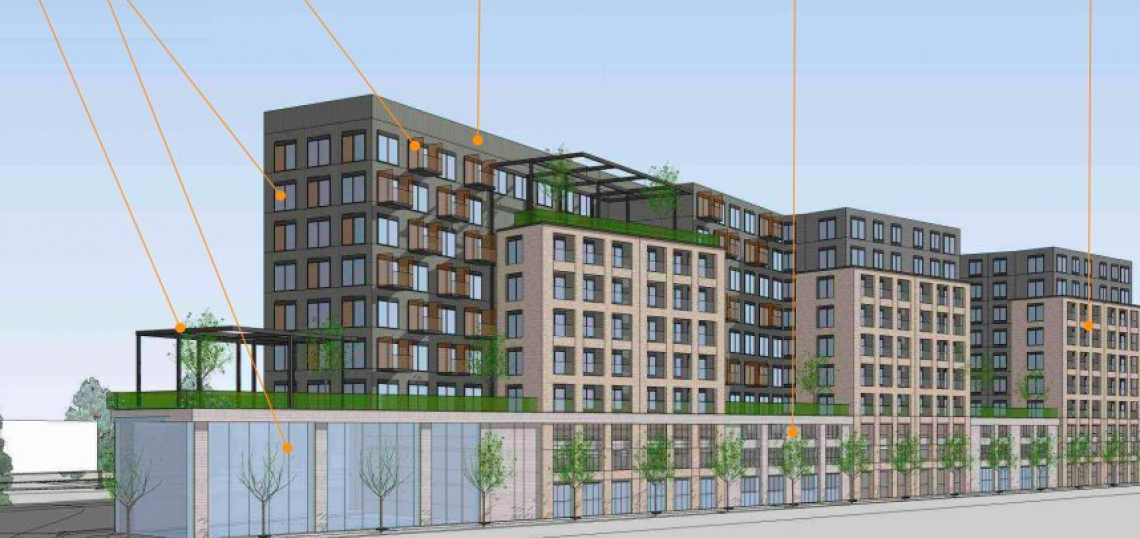 A large infill project near Atlantic Station that's been percolating for two years appears to be making strides toward construction, continuing a residential boom west of Midtown.
Renderings obtained by Urbanize Atlanta show developer Middle Street Partners has heavily revised designs for a Loring Heights project that would claim an empty parcel at 400 Bishop Street. The plans were submitted to the city for review in July.
Those filings indicate that Middle Street aims to build elevations up to 10 stories and switch the 1.4-acre site's zoning from heavy industrial to mixed residential and commercial.
Several outdoor amenities areas would extend from the wedge-shaped building's north and east faces, and units along Bishop Street at ground level would function as live-work properties, according to the plans.
The 400 Bishop Street site in February, with Atlantic Station's tallest buildings and Midtown in the background.
Plans that emerged in 2019 by another development group, Track West Partners, called for 130,000 square feet of creative offices above retail in a shorter building. Other concepts have called for just 26,000 square feet of offices in four stories, with a "post-COVID-era wellness plan."
Middle Street Partners reps haven't responded to inquiries this week. But according to filings earlier this year, the developer plans to build 278 apartments at the site and deliver them by March 2024, as What Now Atlanta reported in May.
Situated next to active Norfolk Southern railroad lines, the apartments would range from one to three bedrooms, with market-rate rents between roughly $1,500 (670 square feet) up to $3,000 (1,450 square feet) monthly.
The vacant site is just north of Atlantic Station's Target. It's within a few blocks of several hundred multifamily units that have opened in the past two years at projects along the Howell Mill Road corridor, such as The Interlock and Star Metals.
Elsewhere in Atlanta, Charleston-based Middle Street Partners is under construction on a mixed-use venture fronting the BeltLine's Southside Trail corridor.
The company is also planning two Midtown towers, rising 40 and 32 stories, on the site of longstanding establishments Einstein's and Joe's On Juniper.