Imperial Hotel on Peachtree Street is reborn (SLIDESHOW)
Imperial Hotel on Peachtree Street is reborn (SLIDESHOW)
Carla Caldwell, Morning Edition Editor
Mar 10, 2014, 9:54am EDT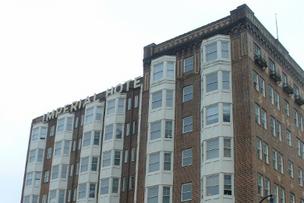 The historic Imperial Hotel at 355 Peachtree Street in downtown Atlanta has a new look and a new name.
Redevelopment is complete on the building rechristened "The Commons at Imperial Hotel," reports Curbed.com. The eight-story brick tower, built in the early 1900s, has been redeveloped by Atlanta-based Columbia Residential and Ohio-based National Church Residences.
The building will offer 90 units (all LEED Gold-certified) for Atlanta residents in need of permanent supportive housing, the website reports. Each residence is equipped with a full, energy-efficient kitchen and bathroom, says Curbed.com
Douglas Sams with Atlanta Business Chronicle reported in December 2012 that work on the building was underway.
Columbia Residential and National Church Residences closed on the construction and permanent financing deals in November 2012.
Sams reported that the Imperial was considered a leading Atlanta hotel through the 1940s. It provided accommodations for the road crew of the Metropolitan Opera for 40 years, Sams added.
It was also notorious for the nightclubs it hosted from the 1950s through the early 1970s, Sams said.
The hotel shut down around 1980 and sat vacant until the construction boom surrounding the 1996 Olympics. That's when it was redeveloped to provide affordable housing, particularly to residents with special needs, Sams reported.
By 2012, however, the building was facing foreclosure. Columbia Residential and National Church Residences negotiated an agreement with the state of Georgia and city of Atlanta to buy the building and rescue it from full foreclosure, Sams said.
Click here to view Curbed.com's slideshow.